As every Malaysian knows, dressing up in this heat requires clothing that's not just stylish but more importantly keeps you fresh all day! Here's our clothing guide for the style hunters!
Style up for a purpose with Giodarno's "Amazing Ocean" collection, an awareness campaign of pollution and it's devastating effect on marine life & ecosystem. You get extra cool points for supporting a cause!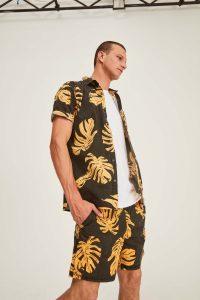 Stand out in abstract shades! Cotton On brings casual weekend wear to a comfortably stylish new level in their latest summer collection with a Vintage Prep Short Sleeve Shirt & Kahuna Shorts!
For the lover of skinny jeans, Uniqlo brings you the versatile EZT Skinny Color Jeans for both men & women! Feel breezy in your jeans with every step of the way.
Ease into your daily plans and stay dry in Levi's "Live Positive, Live in Levi's" Collection. Achieve versatile & quick styles when you pair them with their Performance COOL jeans in various cuttings to fit your scene!