These festive finds will have you and your family perfectly dressed for every special occasion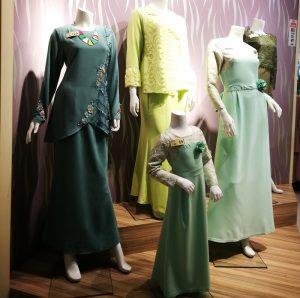 Update your wardrobe with TUCZ, a fashion brand dedicated to all women, no matter what shape and size. It looks to the latest trend to create styles that are fashionable, wearable and made to bring out the best in full-figured body shapes. This Raya, liven up your look with TUCZ pieces in shades of green. With pretty detailing and embellishments, you can play matchy-matchy with your little one too for an effortless look!
A classic look never goes out of style and that is why Omar Ali continues to be the top choice for families looking for stylish yet traditional Baju Melayu and Baju Kurung. Made from quality linen and silk, their new Raya 2018 collection features motifs and designs in various matching colours for the whole family!
A brand created by designer Leslie Variyan, Variente has been dressing women for more than 13 years with elegant and stylish outfits for the everyday woman. The Variente Lebaran 2018 Colour Me Classic collection features bold and rich colours and prints that look festive and an easy way to up the glamour during this festive season.
Leading telekung brand in Malaysia, Siti Khadijah has designed an exclusive Telekung Signature Limited Edition collection for Ramadan. Made from quality cotton, the range features an abstract patterned lace design and comes in classic white colour. Available in free size at RM199.
Specially designed for Raya 2018, Fareeda House of Scarf has introduced an instant hijab made from high quality chiffon attached with a hijab inner, creating a classic yet contemporary look. Just what you need to complete your Raya look. Available in special printed motives and pastel plain.