Celebrate the festive season with Ramadan special meals! Watch TV personality, Mat Dan, try these delicious meals & you can take your family to try it out too at Alamanda Shopping Centre!
Sepiring
Dig into a harmonious blend of Malaysian flavours crafted to taste like home-cooked dishes! Embrace local delights of an appetizer of Pasembur, a hearty main of the wholesome Nyonya Nasi Ulam & a sweet Coconut Cendol Cooler drink!
Seoul Garden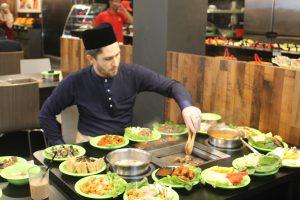 Feast to your heart's content on Korean- styled barbecue buffet, get a taste of signature marinated meats Dakgalbi Chicken, Teriyaki Lamb & the super unique Coffee Beef!
Black Canyon
Enjoy the fiery kick of delicious Thai food with seafood specials such as Prawn Tom Yum & Pad Thai Prawn or spicy stir fried minced chicken with fragrant basil leaves with Pak Kraw Paw!
Johnny's Steamboat
Buka puasa with a hearty steamboat filled with seafood, vegetables & sliced meat in an all-natural vegetable broth, but the special Thai dip sauce makes the meal worth coming back for!
Sushi King
For those who love Japanese meals, try the Ramadan specials of Atlantic Pike & Japanese Horse Mackerel meals and Sushi rolls at Sushi King!
The Chicken Rice Shop
Malaysian favourites such as Chicken Rice, Curry Laksa, Rojak but especially the delicious Pai Tee which is a Nyonya delight made with crispy shells filled with a savoury mix of sliced vegetables & chicken.
The Manhattan Fish Market
Sea-lebrate the festive season with up to seven Ramadan platters to choose from, feel the burn with the delicious Manhattan Flaming Seafood Platter!
Secret Recipe
Known famously for their rich & diverse rich cake flavours and serving local meals, tuck into their savoury special of the Korean Fried Chicken Platter perfect for up to 2 pax!
Nando's
Break fast with a signature flame-grilled Nando's meal with a Quarter Chicken with PERi-PERi Chips and Coleslaw, a refreshing Chicken Salsa Bowl and complete your meal with a Caramel Cheesecake!
Kenny Roger's Roasters
Dig into a creamy Ramadan special of i-Yam Tom Yam Chicken Rice or Spaghetti choice and a minty and zesty Kaya Raya Mocktail drink!
Would you like to dine with Mat Dan? Find out how to stand a chance to win an exclusive dinning session with Mat Dan this Raya, click here.
Mat Dan Dining Session With 5 Lucky Winners!