Johnny Steamboat
With the family in tow, head to this joint for tasty Thai steamboat. The wide range of choices here include oyster meat, jelly fish, fresh squid and fresh salmon, all served with a side of special Thai dip sauce. If you want something spicier, order their Tom Yam soup for that extra heat!
Kenny Rogers Roasters
At Kenny Rogers Roasters, you'll get food that is prepared with plenty of love. The chicken is Rotisserie-roasted and served with delicious side dishes from piping hot jacket potatoes, to fresh salad, tasty soups. Complete your time here with one of Kenny's famous homemade muffins that are made fresh every day!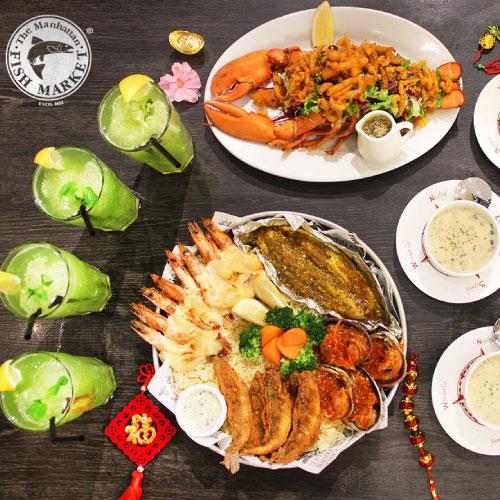 Manhattan Fish Market
Celebrate the Lunar New Year with a sea-licious pairing of Lobster Yee Sang and Seasonal Fish-perity Platter to satisfy your taste bud. This deliciously sea-perb combination of prosperity clams, Manhattan Flaming Prawns, Mediterranean Baked Fish/ Spicy Baked Fish and icefish served on a bed of fragrant prosperity fried rice.
Nando's
This restaurant's specialty is Afro-Portuguese flame-grilled PERi-PERi Chicken. PERi-PERi or African Bird's Eye chili, is rich with Vitamin A, B and C. Nando's uses no preservatives, no added MSG, no flavouring or colouring. Their butterfly-cut chickens are marinated for 24 hours in Afro-Portuguese recipe, then flame-grilled to perfection in your choice of PERi-PERi sauces – Lemon & Herbs, Mango & Lime, Mild, Hot and Extra Hot.
Sushi King
One of the largest Japanese kaiten (conveyor belt) concept chain of restaurants here in Malaysia, Sushi King's main offering is quality sushi and Japanese cuisine at affordable prices. Their salmon sashimi is made of salmon that is air-flown from the cold, clear waters of Norway, giving it a fresh and flavourful taste. What sets Sushi King apart is that it's freshly made sushi is served on the kaiten for you to pick up and enjoy!
The Chicken Rice Shop
At The Chicken Rice Shop, be ready to tuck into traditionally prepared steamed, roasted, honey barbecued and soy sauce chicken with fluffy chicken flavoured rice cooked to perfection from a recipe passed down through the generations. A classic dish, done marvellously.